INDUSTRIÁLNÍ STYL. V KRÁLOVSTVÍ CIHEL A BETONU
V aranžacích industriálního stylu je nejdůležitější prostor. Prostorné, dobře osvětlené, exkluzivní interiéry jsou plné malého počtu pečlivě sladěného minimalistického nábytku a doplňků. Vše vytváří jedinečnou zajímavou kombinaci odkazující na atmosféru předválečných továren. Je to styl, který se vyvíjí v historické (nebo po vzoru historické) stavební linii, ale tradicionalistům se nebude líbit. Tento trend je určen pro otevřené a moderní lidi s nekonvenčními preferencemi.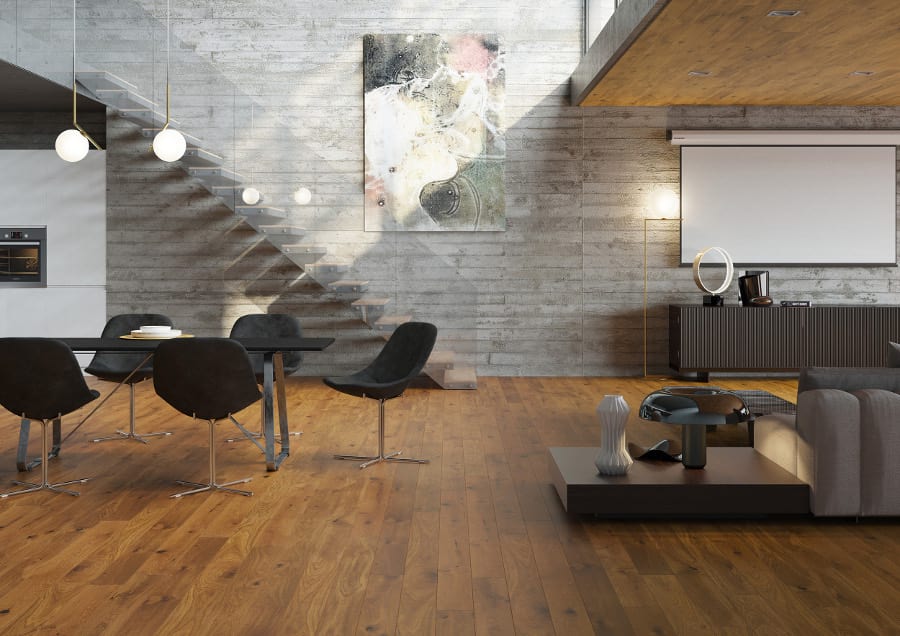 Počátky industriálního stylu sahají do 50. let. Byla to doba, kdy ve Spojených státech nastala recese a upadající továrny se staly vynikajícím prostorem k usazení. Jeho rodištěm je New York. Právě tam do uvolněných a opuštěných prostor začali umělci stěhovat svá studia. Prostory byly zařízeny vybavením nalezeným v továrnách.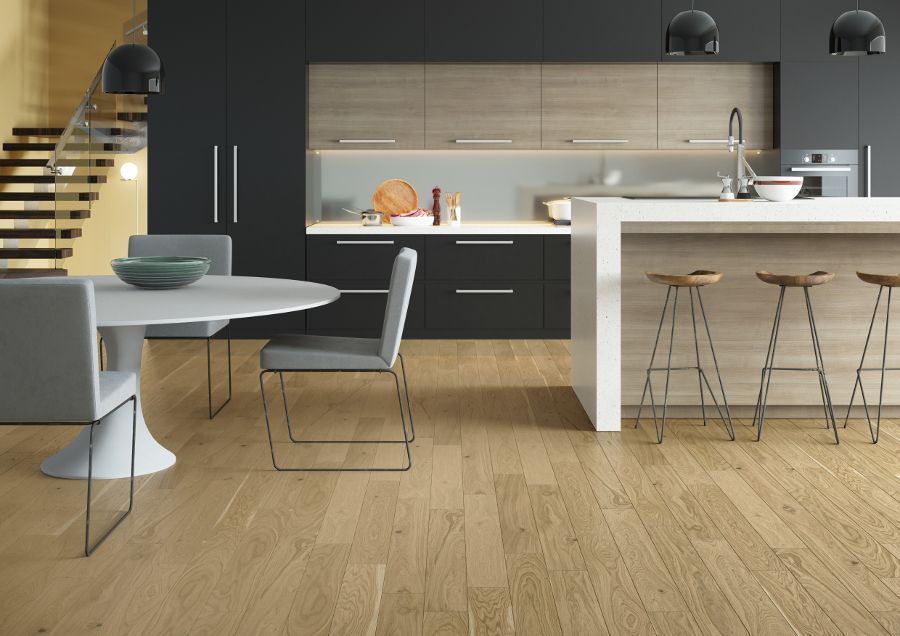 Industriální styl to jsou interiéry s historií. Jejich minulost by proto neměla být maskována. Mělo by v nich být dostatek prostoru a světla vcházejícího velkými surovými okny. Stěny v moderních interiérech mohou být pokryty barvou v jednotné tlumené barvě. Stojí za to zde také zviditelnit beton a cihly a prvky stavební konstrukce. Podlaha v interiérech by měla být také udržována v továrním klimatu. Je dobré, když beton naruší jiný skutečný materiál. Takže postaršené dřevo s mnoha přirozenými charakteristikami samotné suroviny dokonale zapadne do celého uspořádání. Dřevo má ještě jednu vlastnost: je odolné a časem získává na kráse. Tento styl nemá rád novinky, doporučuje se patina. To, zda bude interirér i po několika letech vypadat atraktivně záleží na kvalitě samotných výrobků. Ty nekvalitní zkoušku času nepřežijí.
V industriálním stylu se nejlépe tlumené tlumené odstíny. Budou zde dobře vypadat černé, bílé a šedé odstíny. Jejich monotónnost může být přerušena akcenty intenzivnější barvy. Převládajícími materiály v místnostech by měly být kov a sklo.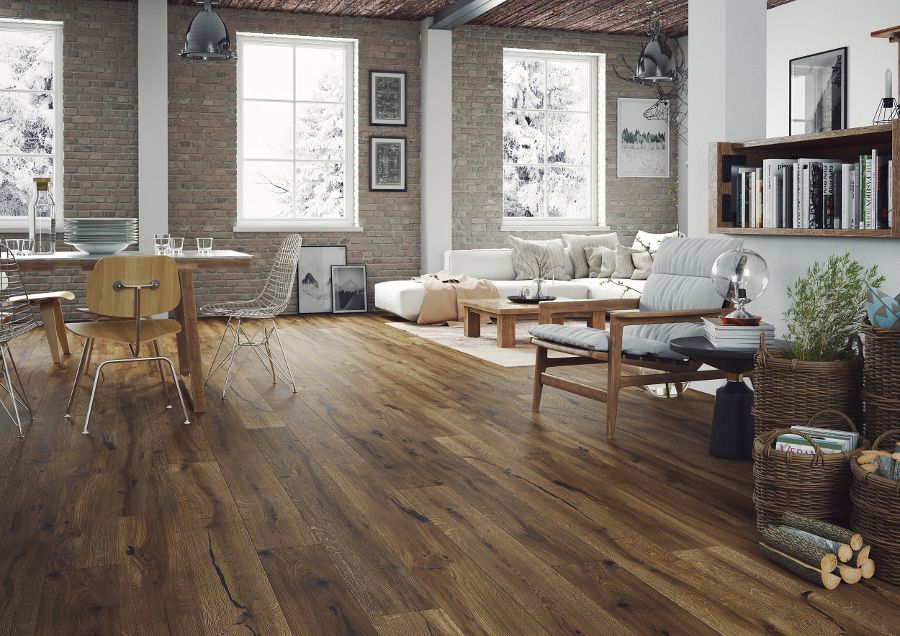 Nábytek, který je součástí loftu, je minimalistický a odkazuje na tovární charakter interiéru. Dobře se zde bude vyjímat stůl z palet na kolečkách nebo stínidla ze silného drátu. Nedílnou součástí uspořádání v industriálním stylu jsou průmyslové lampy v černé nebo stříbrné barvě, které poskytují tlumené světlo.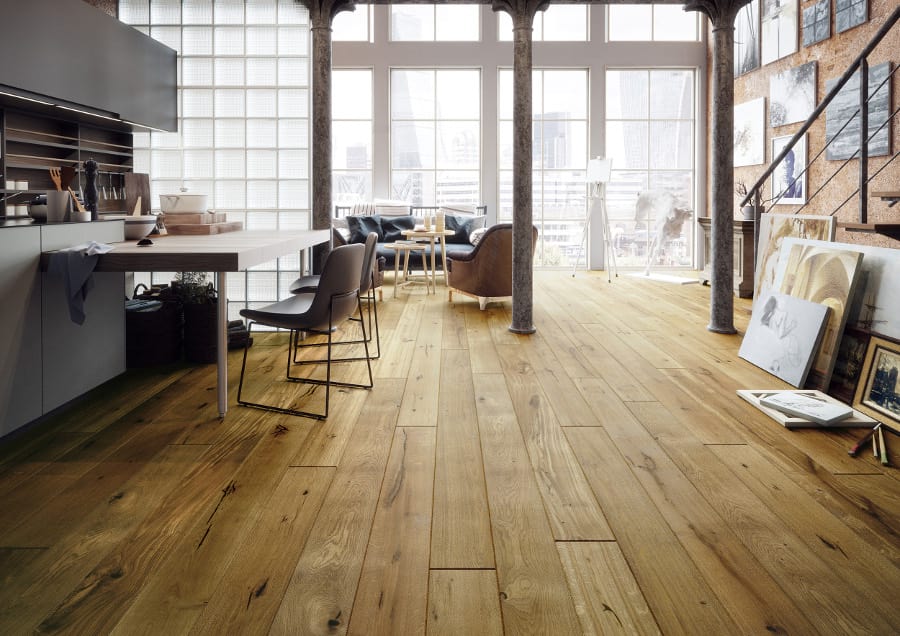 V interiérech v industriálním stylu by nemělo být příliš mnoho doplňků. Prostor lze zateplit umístěním polštářů v tlumených barvách na postel nebo sofu. Osvědčí se zde všechny plechové a skleněné dekorace odkazující na průmyslový charakter interiéru. Stěny mohou být zdobeny zrcadly a fotkami v rámečku pro optické zvětšení prostoru. Dobře zde budou vypadat také části strojů, kufry a dřevěné nebo kovové truhly.